Blossom Music Center Limo's Party Buses
Arrive in style to Blossom Music Center. The party starts when we pick you up. Our licensed cars allow to drink on the way to the concert. We provide the ice you provide the drinks.
We pick you up two hours before the show starts.Leaving you plenty of time to tailgate before the concert. We will be parked in a lot minutes away from the gate. Return you back home.
Our flat rate pricing for anywhere in Cuyahoga and Summit county's  includes tax does not include 20% suggested gratuity . For rates outside of Summit and Cuyahoga counties just give us a call.
Blossom Music Center Transportation Rates (includes tax)
$200 deposit to hold your reservation. The balance is paid the week of the event.
$269.36 up to 4 passengers in a  town car
$336.96 for a 7-passenger Presidential SUV
$421.20 for 14 passenger transit                 $466.56 for a 11,12 or 14 passenger taxi party vans
$486.00 for a 2015 Ford Van Terra 12-13 passenger party bus (with or without table)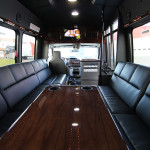 $673.92 for a 14 to 20 passenger luxury party bus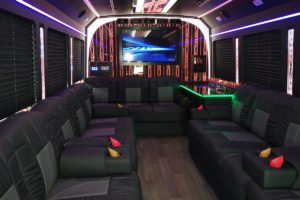 $699 for a 22-24 Passenger Party Bus
This bus Features LED Lights with music light show, two LCD TVs that can play DVDs while listening to music, touchscreen radio with iPod/Phone hookup for music,Perimeter Seating. Great for bigger groups  concert and wedding parties. Rates for this bus is $127/hour 4 hour minimum rental plus 8% tax and 20% gratuity.
 Our party bus rocks!
We also travel to House of Blues, Hard Rocksino Northfield Park, Quicken Loans Arena and Nautica Jacobs Pavilion. We offer Drop off pick up service to these locations. No waiting time while you are at these locations. Requests a quote under the reservations tab above.
Taxi Limo Transportation to Blossom Music Center Concerts
Blossom Music Center – Cuyahoga Falls, Ohio
24 Upcoming Events
ALL PERFORMANCES AT BLOSSOM MUSIC CENTER
Blossom Music Center
, Cuyahoga Falls, OH
Brad Paisley and Hank Williams Jr. with special guest Dan Tyminski Jul 5, 2018    7:30 PM
Roger Daltry July 8th
Logic Presents: Bobby Tarantino vs. Everybody Tour with NF and Kyle Jul 6, 2018    7:00 PM
Foreigner – Juke Box Heroes Tour                  Jul 10, 2018         7:00 PM
Weezer / Pixies                                                    Jul 11, 2018          7:30 PM
Rob Zombie & Marilyn Manson: Twins Of Evil Jul 17, 2018    7:00 PM
Vans Warped Tour Presented By Journeys Jul 18, 2018           12:30 PM
Lady Antebellum & Darius Rucker Summer Plays On Tour Jul 20, 2018 7:00 PM
Foo Fighters: Concrete And Gold Tour '18     Jul 25, 2018         8:00 PM
Lynyrd Skynyrd: Last of the Street Survivors Farewell Tour Jul 27, 2018 6:00 PM
Zac Brown Band: Down the Rabbit Hole Live! Aug 2, 2018        7:00 PM
End Of The World Tour: Avenged Sevenfold With Prophets Of Rage Aug 6, 2018 5:30 pm
Keith Urban: Graffiti U World Tour August 1oth 7:30 pm
Rascal Flatts: Back To Us Tour 2018 August 17 7:30 PM
Jason Aldean: High Noon Neon Tour 2018 August 23rd 7:30pm
Counting Crows with special guest +LIVE+: 25 Years and Counting August 26th 6:30pm
Niall Horan Flicker World Tour 2018                Aug 29,2018        7:00 PM
Breaking Benjamin And Five Finger  Death Punch  Sept. 9,2018 6:00PM
Pentatonix                                                                 Sept 13 , 2018     8:00 PM
Ozzy Osbourne : No More Tours 2                       Sept 16,  2018     730   PM
About Roger Daltry at Blossom Music Center
Roger Daltrey first became Famous with the Who in 1964.  During the height of their popularity, the Who's songs dominated the charts and the airwaves, with unforgettable hits like "Pin Ball Wizard," "My Generation," "Happy Jack," and "Magic Bus." He sold millions of albums wordwide.
Roger Daltrey at Blossom Music Center July 8th with his solo Career. He will playing along with the Cleveland Orchetra. His first solo album was "Daltrey." With songs like "Giving it All Away," which became a top 100 hit . He followed up in 1975 with the album "Ride a Rock Horse," which reached the number 50 position in the U.S., "Come and Get Your Love." Roger Daltrey continued with a steady stream of record releases throughout the years that followed, including "One of the Boys," "McVicar," "Parting Should Be Painless," "Free me"
About Keith Urban at Blossom Music Center
Last year Cleveland Taxi Limo and CT limo sold out for the popular country artist from australia Keith Urban.
 He is the lead nominee  for the Academy of Country Music Awards garnering nods for Entertainer of the Year, Album of The Year, Male Vocalist of The Year. He brings his show to Blossom Music Center August 10th.
He has four Grammy Awards, Urban has won ten Country Music Association Awards, eleven Academy of Country Music Awards, a People's Choice and an American Music Award and has been nominated for a Golden Globe.  He is a member of the Grand Ole Opry.
His top songs include You Goona Fly, The Fighter,Where the Black Top ends, You Look Good in my Shirt, Somebody Like you,  and everybodys favorite Stupid Boy.
Make sure  you book Cleveland Taxi Limo Party Bus Limo taxi transportation to Blossom Music Center  early.
About Breaking Benjamen at Blossom Music Center
Take Cleveland Taxi Limo to Blossom Musis Center to see Breaking Benjamen and Five Finger Death Punch. We offer transportation fro 2 to 24 passengers.
Don't miss the start of the show. The show start time has changed to 6 PM.
The set list for the September 9th show at Blossom Music Center is as follows:
Show Opener
Red Cold River
So Cold
Dairy of Jane
Never again
Breath
Sooner or Later
Blow me Away
Failure
Angels Fall
Pycho
Till the End
~~About Blossom Music Center in Cuyahoga Falls, Ohio
Ohio is the home of Blossom Music Center in Cuyahoga Falls, Ohio near Akron and Cleveland. The well known music venue was built as an outdoor center for entertainment, including a stage, restaurant , art gallery, outstanding gardens and a beautiful picnic areas. It was built over 800 acres of land and its location makes it clear why the Blossom Music Center is a favorite of Ohio's music venues. It also has the Portman Theathre part of Kent State University on the grounds. One of the novelties of the Blossom Music Center, is the lawns that cover the back rows of the seating plan, giving a fantastic outdoor music experience. The lawns also provide an excellent view of the stage. Concerts go on rain or shine, so make sure you double check the weather when buying lawn tickets! We will provide rain ponchos if it does. Since 2003 when the Blossom Music Center underwent massive renovations, it can now hold over 19,000 people! 5,700 seats are available in the pavilion with another 13,500 spaces available on the lawn. We offer limousine car service and party bus transportation to all these events and all events , Cuyahoga Falls Blossom Music Center,House of Blues,Hard Rocksino Northfield Park,Quicken Loans Arena and Nautica Jacobs Pavilion. 
CLEVELAND TAXI LIMO PARTY BUS LIMO TRANSPORTATION IS THE NUMBER ONE TRANSPORTATION PROVIDER IN CLEVELAND AND AKRON according to Tripadvisor.